Emergency Response
---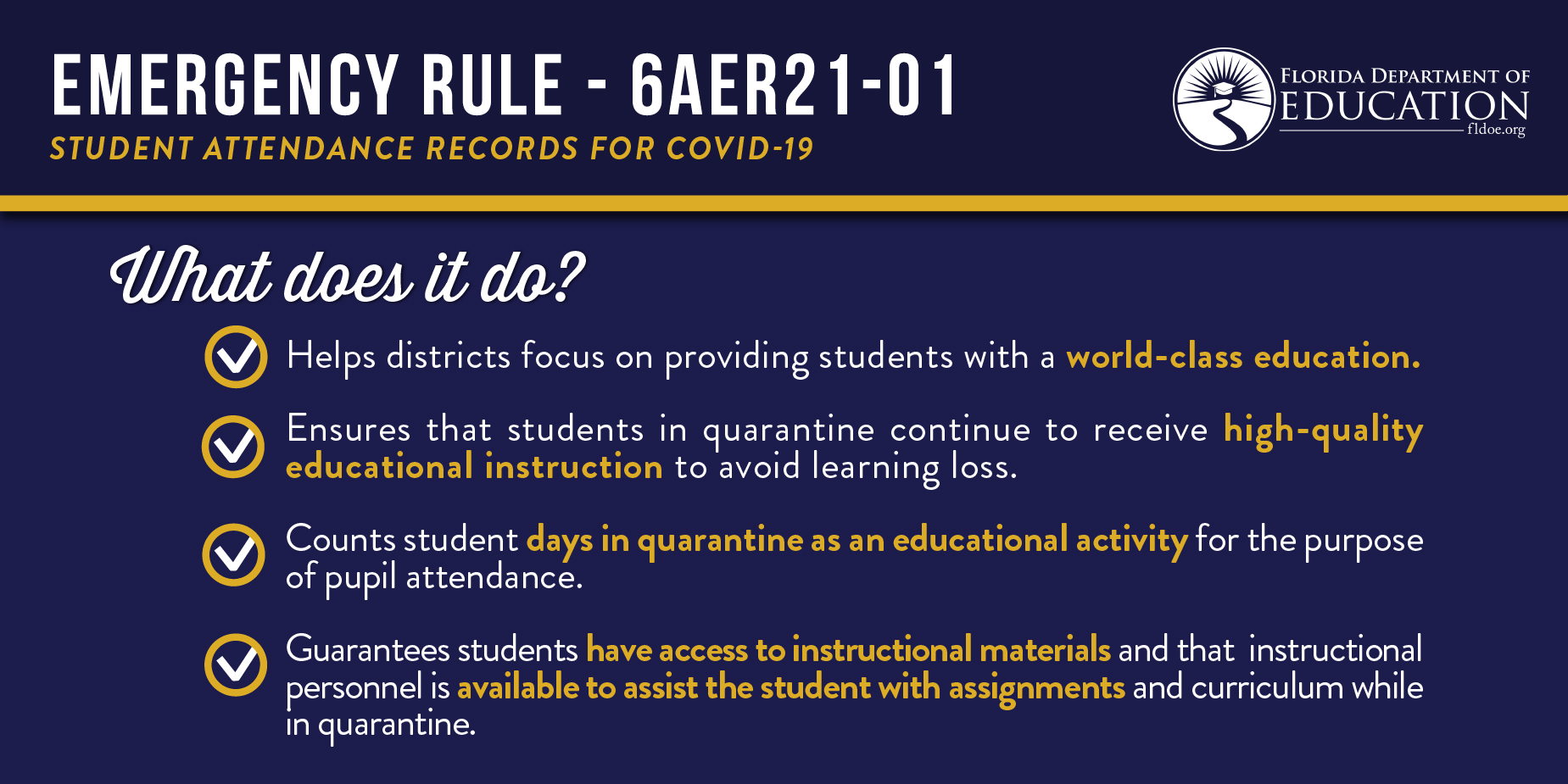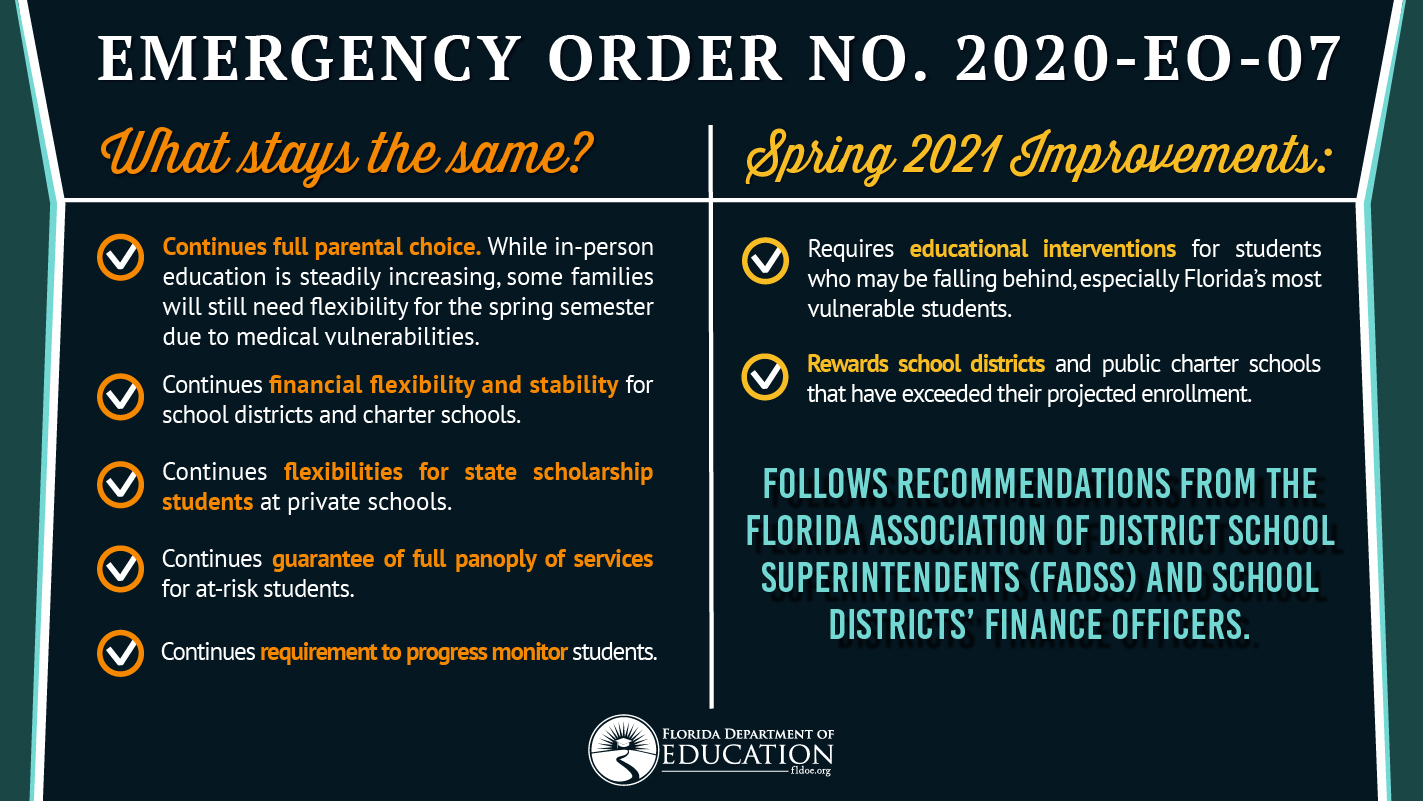 Approved Spring 2021 Education Plans
Read the full recovery and reopening plans, and details on the federal CARES Act Education related funding here. (PDF)
July 6, 2020: FDOE Order No. 2020-EO-06 - Reopening K-12 Schools
---

On July 6, 2020, the Florida Department of Education (FDOE) provided further guidance to school districts through an Emergency Order – 2020-EO-06: Further Guidance for Closing Achievement Gaps and Creating Safe Spaces for Learning. FDOE took bold steps to ensure that Florida schools will be open while also providing equally as pivotal flexibilities that directly prioritize health and safety and benefit families, school districts and schools. This order also gave districts the financial security and confidence to secure a seat for a student that may decide to begin the school year in a non-traditional setting, be it virtual or one of the many innovative ways Florida districts are providing education, and later return to the classroom. The order combined with the FDOE's Recommendations to Reopen Florida's Schools and the Cares Act Plan are designed to work together to ensure each and every student in Florida can continue to receive a world class education, give parents a choice in their students education, and prioritize safety.
These additional flexibilities also created pathways for school districts to craft their own locally conceived plans that work best for the communities they serve, while ensuring school districts receive the guidance and security they need to comply with numerous state and federal laws to ensure every student, including those with medical vulnerabilities, English Language Learners and students with disabilities. Each district created unique, innovative plans that prioritize the safety and security of students and educators and ensuring ALL Florida students can continue to receive a world-class education. The plans are due to FDOE by July 31, 2020. View these plans below:
Approved K-12 District Re-Opening Plans
If you have trouble accessing the below files please reach out to that County directly.
---
FDOE COVID-19 Newsroom • Contact Information • K12 Campus Closures • Postsecondary Institutions • Office of Early Learning • Vocational Rehabilitation and Blind Services Offices • State of Florida Guidance • Federal Guidance • Related Documents • Helpful Resources
---
The Florida Department of Education (FDOE) is working closely with the Florida Department of Health (FDOH) and the Centers for Disease Control and Prevention (CDC) to monitor COVID-19 and is actively working to ensure that the most up-to-date guidance is quickly and accurately disseminated. FDOE understands that concerns about health and safety are paramount for all education communities. In response to such concerns, we encourage you to access up-to-date information and resources from the Florida Department of Health (FDOH) website or the Centers for Disease Control and Prevention (CDC) website.
School districts and colleges should work directly with their local county health departments to establish protocols to re-open Florida's educational institutions, control the spread of COVID-19, and educate the public on prevention.
This page, which will be regularly updated, features the most current information on COVID-19, primarily from the CDC and FDOH, as well as guidance and resources for everyday disease prevention strategies. Please direct any questions about COVID-19 in Florida to FDOH at COVID-19@flhealth.gov.
Department of Children and Families Abuse Hotline: 1-800-962-2873
Reporting Abuse During COVID-19 (PDF)
Information for Educators (PDF)
Parents and Caregivers Play an Important Role During COVID-19 (PDF)
For additional education-related information, the U.S. Department of Education has established a dedicated Coronavirus webpage, which includes resources for institutions of higher education and for K-12. This information is continually updated so please check back for the latest.
For the most recent updates regarding the number of COVID-19 cases in Florida and health and safety tips, please visit the Florida Department of Health's COVID-19 website: www.floridahealth.gov/covid19
FDOE COVID-19 Newsroom
Contact Information
State of Florida Guidance
Federal Guidance
Over the last two weeks, the White House, the Department of Education, and other federal agencies have released more guidance to support schools, educators, and families regarding COVID-19. Many of the new documents are listed below. The Department continues to update its COVID-19 information and resources web page with the most current information, and any questions for the Department may be directed to COVID-19@ed.gov.
Related Documents
Remember: As COVID-19 evolves, guidance will change, please review the most recent updates above.
Helpful Resources