Mental Health Resources
I NEED HELP NOW
It's okay to not be okay, but there are a lot of people who want to help you get better.
Mental Health Funding | National Resources | Early Learning Resources | K12 Resources | Florida College System Resources | Press Releases
The mental health of Florida's students and families is a top priority of the Florida Department of Education. Mental illness robs students of their ability to reach their full potential and we are actively working to combat this horrible disease. Thanks to the leadership of Governor Ron DeSantis and First Lady Casey DeSantis, Florida is on the forefront of mental health outreach to ensure all our students have the necessary tools to see them through life's successes and challenges.
The State Board of Education passed a rule requiring every Florida public school to provide students in grade 6-12 at least five hours of mental health instruction each year. Along with training and professional development, Florida's teachers are equipped to recognize the signs of mental illness and can assist students in getting professional help.
This website offers a wide variety of information to aid students and families in finding local, state and national mental health resources.
According to data from the Youth Risk Behavior Survey (YRBS), Florida students are struggling more today than they were 10 years ago, as evidenced by the graphic below, which compares students' 2009 responses to students' 2019 responses.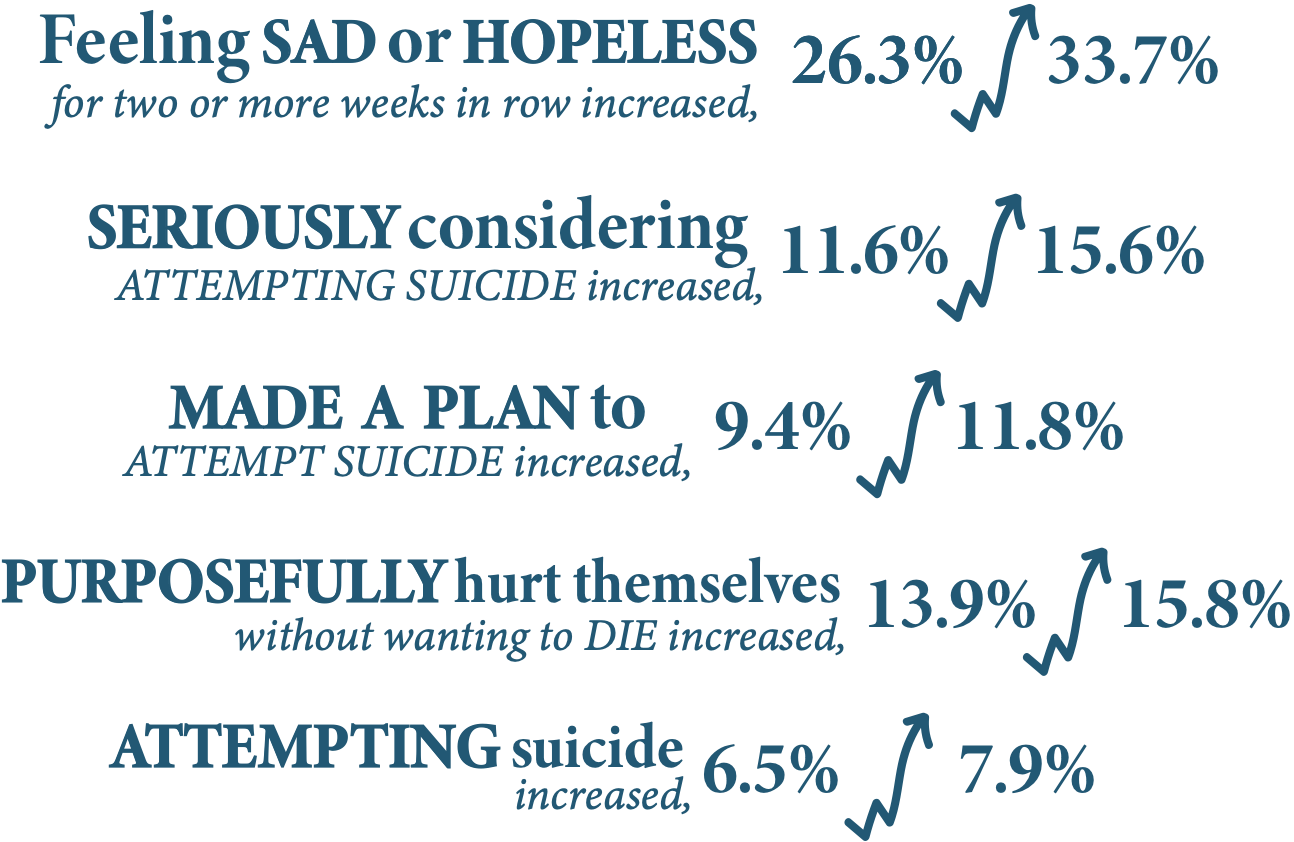 Fortunately, there are many effective strategies and treatments to help individuals who are struggling with mental illness. The State of Florida has made significant investments to ensure there are school and community-based providers, such as certified school counselors, school psychologists, school social workers, and other licensed mental health professionals available to help our state's children and youth overcome non-academic barriers to academic success. Schools are better equipped than ever before to offer critical mental health care within the school setting and to refer families to community partners when more appropriate.

Florida recognizes the critical need to address mental health issues by continually investing resources to increase mental health funding available to schools and providers.
Year-over-year increases in the Florida Education Finance Program (FEFP) for the district Mental Health Assistance program:
2019-2020 school year: $75 million;
2020-2021 school year: $100 million; and
2021-2022 school year: $120 million.
Additional Investments in Mental Health Funding
$23 million CARES (to DCF) to reinforce Florida's mental health services system.
$2 million CARES for 18 rural districts to reduce mental health professional-to-student ratio and increase student access to mental health services.
$8.9 million for a Preschool Development Infant and Early Childhood Mental Health Grant to provide mental health sub-grants.
$5.5 million for youth mental health awareness training for teachers and school personnel.

If you feel you or someone in your household may harm themselves or someone else:
If you need to find treatment or mental health providers in your area:

The Florida Department of Education, Division of Early Learning (DEL) is actively building the capacity of the statewide early care and education workforce to prepare children for school readiness and kindergarten. DEL serves children birth to 13-years-old and supports the whole child by establishing measures to ensure families have access to high-quality childcare and afterschool programs; collaborating with community support programs; and providing early childhood educators access to training in early childhood development, healthy social-emotional development, trauma-informed practice and positive classroom strategies.
With $8,937,325.12 in funding from the Preschool Development Birth to Five Grant (PDG), DEL has awarded sub-grants to early learning coalitions (ELCs) and Redlands Christian Migrant Association (RCMA) to identify and purchase needed social-emotional and/or mental health supports for children and their families, School Readiness (SR) providers and Voluntary Prekindergarten (VPK) providers.
To access supports, contact the Child Care Resource and Referral (CCR&R) office at your local ELC. CCR&R provides services and resources to families, including:
Local mental health resources
Community resources
Quality child care options
Access to developmental screenings
Financial supports
You can locate your local CCR&R here.
The following are resources available to help families keep their child developmentally on track.
Infant/Toddler Specialist Network
Each early learning coalition has a designated representative assigned to the Infant/Toddler Specialist Network. Network representatives get training, technical assistance and resources that they pass on to local providers to help improve overall quality for birth to 3 programs.
Voluntary Prekindergarten Resources
Mental Health Resources
Natural Disasters and Traumatic Event Resources
What is PTSD? | In English and in Spanish


The National Center for PTSD (post-traumatic stress disorder) can tell you--and connect individuals, friends, families, and veterans with a network of professionals to help.

Post-Traumatic Stress Disorder in Children
From Medscape, this article looks at the "practice essentials" for diagnosing and addressing PTSD in children. It's a good read for professionals and parents alike; it's easy to read, yet framed from a clinician's point of view.
Tips for Talking with and Helping Children and Youth Cope After a Disaster or Traumatic Event


This guide can help parents, caregivers, and teachers learn more about the common reactions children and youth have to trauma, how to respond in a helpful way, and when (and where) to seek support.

Home Management Strategies for PTSD


What parents can do to help their child cope with trauma and the anxiety that may result. Very practical, very basic.

Helping Young Children Cope After Exposure to a Traumatic Event
Tragedies are especially distressing to families with young children. This resource from Zero to Three is designed to help parents navigate this very challenging time. It includes symptoms a child might display, suggestions for what parents can do, and several resources they can turn to for more information.
Centers for Disease Control and Prevention
Autism and Communication Disorders
Developmental Screening and Developmental Delay Resources
Health Care
Florida KidCare is the umbrella brand for the four government-sponsored health insurance programs – Medicaid, MediKids, Florida Healthy Kids and the Children's Medical Services (CMS) Health Plan – that together provide a seamless continuum of coverage for Florida children from birth through the end of age 18.
Home Visiting Programs
The Home Instruction for Parents of Preschool Youngsters (HIPPY) is a home-based, early intervention program that helps parents create experiences for their children that lay the foundation for success in school and later life. The program is designed specifically for those parents who may not feel confident in their own abilities to teach their children.
The Ounce of Prevention Fund of Florida identifies, funds, supports and tests innovative programs to improve the life outcomes of children, preserve and strengthen families and promote healthy behavior and functioning in society, recognizing that the wisest money spent is on prevention.

Florida's schools and school districts are on the front lines and are in the best position to help students struggling with mental illness. Local resources, including mental health professionals, are essential in addressing the emotional and mental health needs of Florida's youth. With the goal of building resiliency and helping children persevere through life's challenges, the Florida Department of Education is committed to the well-being of Florida's children and students.
To aid in finding help for their children, parents and care givers are encouraged to contact their child's school for additional resources and support from the school's counselor, social worker or other professional staff.
There are resources in every county throughout Florida to help residents overcome mental illnesses and begin living the most fulfilling lives possible. Below is a compilation of school districts' mental health websites, which include contact information and details about specific services offered through the school district, as well as other local and state resources.
---
---
---
---
---
---
---
---
---
---
---
---
---
---
---
---
---
---

As Florida's students advance through their educational journey, oftentimes mental illness gets overlooked when they enter postsecondary education. Students with psychological or emotional challenges often suffer from a variety of symptoms which could affect their school, work and home lives.
Florida's 28 colleges offer counseling services, free of charge, to students experiencing difficulties coping with the demands of college life and society as a whole. Below are links to each college's mental health resources to help students manage stress and succeed in fulfilling their life and academic goals.