U.S. Senate Youth Program (USSYP)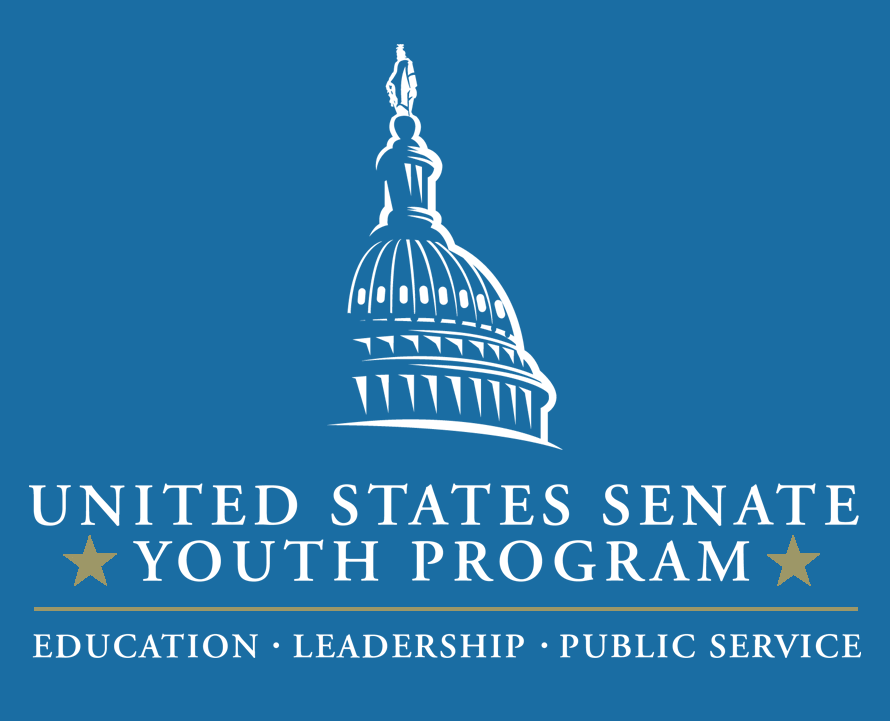 The United States Senate Youth Program (USSYP) is a unique educational experience for outstanding high school students and an opportunity for motivated student leaders to have direct contact with the highest-level elected and appointed officials in the nation. The USSYP mission is to encourage the best and brightest students in America's high schools to pursue careers in public service.
Each year, two student leaders from each of the 50 states, the District of Columbia and the Department of Defense Education Activity (DoDEA) interact with leaders in Washington, D.C., experiencing their national government in action. The United States Senate Youth Program (USSYP) 61st Annual Washington Week will be held March 4–11, 2023.
In addition, students selected to attend will each receive a $10,000 undergraduate college scholarship. Students may qualify to apply through leadership positions they currently hold per the USSYP official criteria for the current academic year. All student leadership qualifying positions are subject to the judgment of the state selection n administrator and will be verified and confirmed.
Congratulations to Florida's 2023 Recipients!
Brady White, Fleming Island, Fleming Island High School, Delegate
Maxton Torres, Miami, Belen Jesuit Preparatory School, Delegate
Jay Kantamneni, West Palm Beach, Dreyfoos School of the Arts, Alternate
Erik Dyer, Lithia, Newsome High School, Alternate
Background
In 1962, the United States Senate voted unanimously to endorse a nationwide youth program that would bring high school students to Washington, D.C. for a brief introduction to the functions of the federal government -- particularly the Senate.
The program was created and authorized by Senate Resolution 234 and has been reauthorized ever since. The original resolution specified that the program be "supported by private funds with no expense to the federal government". As a result, the Hearst Foundation assumed financial support of the program and continues its sponsorship today. The Foundation states that "it is in the public interest to encourage these outstanding young people to continue their educational development."
National Brochure and Press Release
2023 USSYP National Program Brochure
2023 USSYP National Press Release (August 3, 2022)
Eligibility
Please refer to the United States Senate Youth Program (USSYP) National program eligibility requirements for complete details Keep in mind that public service is the core mission of this program.
To apply for the U.S. Senate Youth Program in Florida, a student must meet a minimum of the following criteria:
Be a junior or senior in their 11th or 12th grade year of high school
Currently be enrolled in a Florida public, private, charter school, or home school association
Be a legal permanent resident or citizen of the United States at the time of application (no exceptions)
Have at least one parent or guardian who is a legal resident of Florida
Be currently serving in an elected or appointed leadership position in any one of the following during the entire academic school year:

Student Body President, Vice President, Secretary, or Treasurer
Class President, Vice President, Secretary, or Treasurer
Student Council Representative
National Honor Society Officer (this may include a discipline-based Honor Society that incorporates service components, e.g., the National English Honor Society, Social Studies Honor Society, etc.)
Student representative elected or appointed (by a panel, commission or board) to a local, district, regional or state-level civic, service and/or educational organization approved by the state selection administration (NOTE: School clubs are not considered civic organizations.)
Participation or holding an officer position in academic clubs, educational competition programs/conferences, or organizations designed primarily for the student's personal development do not qualify a student for the USSYP. The positions listed below DO NOT qualify the student for the program:
A participant, captain or officer in Mock Trial, Debate Team, Model UN, or other academic club, conference or competition where the primary engagement is for individual educational enrichment.
Member or leader of the Boy Scouts, Girl Scouts or JROTC
A founder or chairperson of a self-created group
Remember
Any high school junior or senior enrolled in a public, charter, private, or homeschool association school may apply on his/her own initiative.
Students must be able to show demonstrated leadership by serving in elected or appointed positions in which they are actively representing a constituency in organizations related to student government, education, public affairs and community service.
Students applying for the U.S. Senate Youth Program opportunity should be participating in and able to show a history, prior to the year of application submission, of leadership, public service, and government or civic related activities. The organization a student uses to qualify as meeting eligibility requirements must have a service component.
2022-2023 Application
Student application submission deadline is October 14, 2022.
Recommendation Forms submission deadline is October 14, 2022.
Sample Application Materials
The sample application materials below are provided so applicants may view the questions and information to be completed on the online submission. DO NOT attempt to fill in or use the PDF documents for your application. They are provided as examples of the application and recommendation form content only.
Selection Timeline
October 14: Florida Student Application due.
October 14: Teacher and Sponsor Recommendations Forms due.
October 17- October 28: Florida applications under review.
October 28: Florida finalists notified.
November 15: Official Exam and Finalist Interviews, Tallahassee, FL
Early December: Florida Delegates and Alternates announced.
Past Florida Recipients
2022 Recipients
Miles Wang, Wellington, Alexander W. Dreyfoos School of the Arts, Delegate
Pristine Thai, Orlando, Lake Nona High School, Delegate
Maxton Torres, Miami, Belen Jesuit Preparatory School, Alternate
Wesley Littleton, Lynn Haven, Bay High School, Alternate
2021 Recipients
Sarah Frank, Tampa, Blake High School, Delegate
Raj Mia, St. Johns, Bartram Trail High School, Delegate
Joey Chen, Venice, Pineview High School, Alternate
Emberlynn St. Hilaire, Boynton Beach, American Heritage School (Boca/Delray), Alternate
2020 Recipients
Lorraine Angelakos, Coral Springs, Pompano Beach High School, Delegate
Uma Menon, Winter Park, Winter Park High School, Delegate
Lisa Dong, Lehigh Acres, Lehigh Senior High School, Alternate
Ethan T. Ghozail, Palm Harbor, Palm Harbor University High School, Alternate
Florida Delegate Reflection Essays
Washington Week Yearbooks
Contact
Cindy Huffman
Program Director
ussyp@fldoe.org
850-245-7858