The Congress-Bundestag Vocational Youth Exchange Program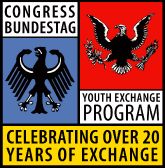 The Congress-Bundestag Youth Exchange was initiated in 1983 by the United States Congress and the German Bundestag (Parliament) in celebration of the 300th anniversary of the first German immigration to the United States. Students who participate in this student exchange will have the opportunity to expand their perceptions and awareness of German culture, society, history, and politics.
This student exchange program is administered by the Nacel Open Door Student Exchange and provides an opportunity for graduating high school seniors who are enrolled in vocational courses to spend one year in Germany exploring their vocational interests. Although previous study of German is advantageous, it is not a prerequisite for scholarship selection.
Each Florida high school may nominate up to three students. Students must be able to demonstrate the maturity and commitment necessary to be successful in an international exchange program.
A link to the application form is listed below. For more information on this program, contact Nacel Open Door at 800-622-3553, ext. 603. You can also get additional information from the Nacel Open Door website.
The deadline for completing applications will be January 15th.