National Assessment of Educational Progress (NAEP)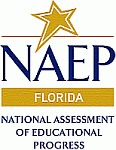 The National Assessment of Educational Progress (NAEP) is the largest nationally representative and continuing assessment of what America's students know and can do in various subject areas. Assessments are conducted periodically in mathematics, reading, science, writing, the arts, civics, economics, geography, U.S. history, and technology and engineering literacy. Each subject is assessed at grades 4, 8, and 12, although not all grades are assessed each time. Results for the nation, states, and some urban districts are released as The Nation's Report Card.
NAEP is a congressionally mandated project administered by the National Center for Education Statistics (NCES) and overseen by the National Assessment Governing Board (NAGB). In the state of Florida, participation in NAEP is mandated by Section 1008.22(2), Florida Statutes.
Related Links
Contact
Tamika Brinson
NAEP State Coordinator
Florida Department of Education
Email: Tamika.Brinson@fldoe.org
Phone: 850-245-0787